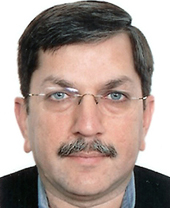 CMC, FIMC
Founder - Retyrement.com
Mr. Rajiv Khurana, is the CEO and Founder, The Personnel Lab. He has over 36 years of Industry and consulting experience in corporate world. He is an International Consultant & Trainer, Venture Mentor, Executive Coach, Writer and Social Entrepreneur.
Retyrement.com  is the initiative by Rajiv Khurana to serve over 200 million people who dislike the idea of retiring during 50-65 years of age. People at this age are not OLD. They are the gOLD – rich with experience, energy and zeal to do something more meaningful in life through bOLD steps.
Retyrement.com is a newly minted metaphor of the current age. Your age. We are your co-companion whenever you desire a fresh re-start.
We enable you. We create the platform for your re-engagement. We stay with you. We walk with you into a bright new sun where you may discover the right opportunities for your economic, professional, entrepreneurial or social engagements, desires and well being.